It's no secret that online advertising is a great medium to capture consumers' attention. In a recent Urban Science online study, we found that 86% of consumers find value in online ads. However, without a strategy, it's easy for your advertisement to get lost. Think about your own internet experience lately – you might notice every site you visit is loaded with different messages. As ad space becomes increasingly cluttered with brand messaging, how do Automotive Marketers cut through the noise to capture in-market attention?
Create A Personalized Approach
Ensuring your ads are targeted to the right consumers and developing audience-specific creative campaigns is one way to drive engagement: 66% of adults prefer an ad to be targeted to their behaviors and interest and 68% said they probably wouldn't engage with an ad unless it appeared to be specifically tailored to them. So, start by understanding which audience you want to target and if they are actually in-market, then factor in what motivates them to click. Our study revealed the top motivating factors that drive engagement with online vehicle advertisements.
Motivating Factors to Click on an Online Vehicle Advertisement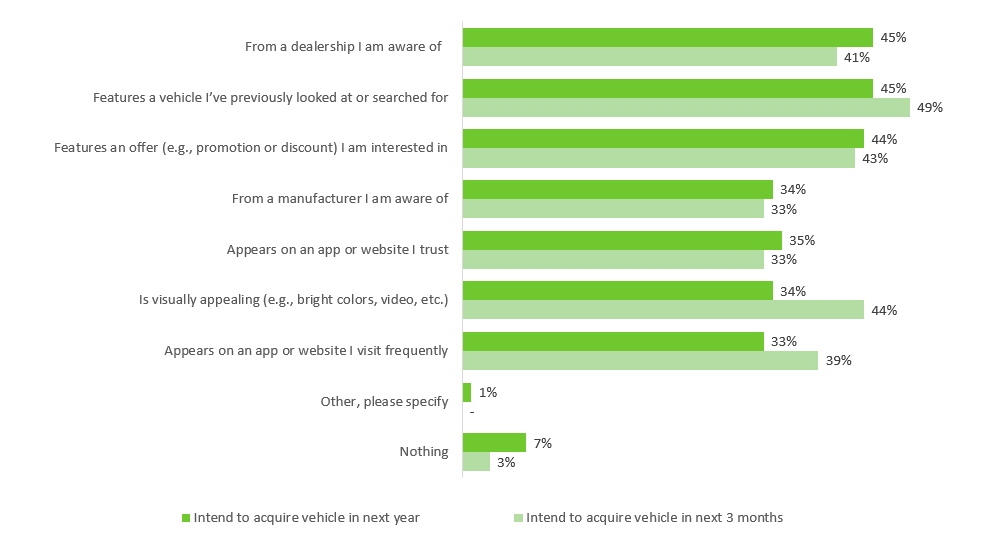 ---
Content from a dealership the consumer is aware of or features a vehicle they previously looked at is more likely to elicit engagement.
Incorporate More Video Into Your Strategy
Consumers who are intending to purchase in the next three months or sooner are more likely to engage with a video ad vs. a web one. With consumers spending an average of 6 hours per week on social and streaming video, video advertisements will continue to be one of the best ways to grab consumers' attention in 2021.
Once They've Engaged With Your Content, Create A Thoughtful Follow Up Strategy
---
81% of consumers become frustrated if they are bombarded with information after clicking an online advertisement. This perceived frustration leads many, 79%, to avoid clicking on ads because they don't want to receive unnecessary information.
---
While it's important to engage with consumers who click on ads, advertisers should be aware of how often they are communicating and continue to tailor their messages. Once a consumer has made a purchase, it's a best practice to remove them from your list so they don't continue to receive unwanted ads.
Attitudes about Online Advertisements and Privacy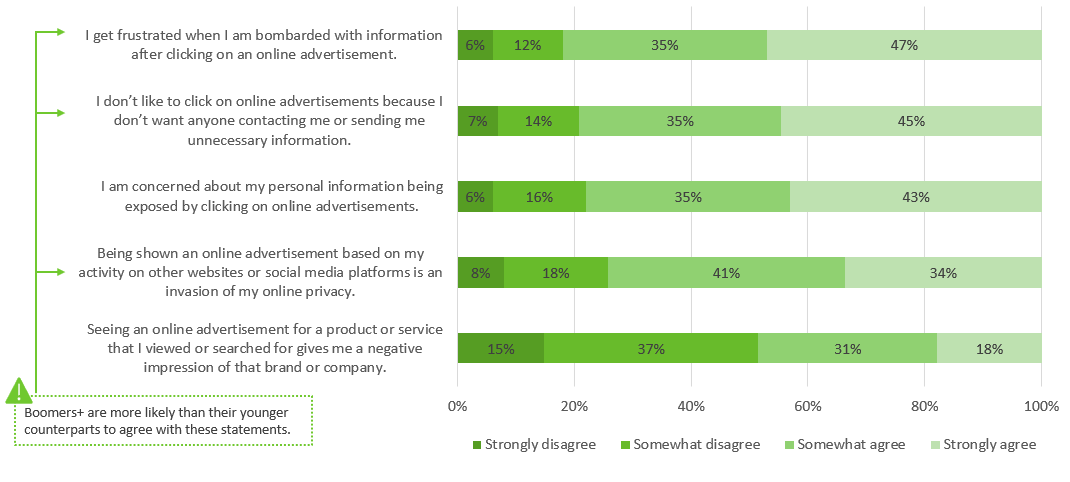 Our study showed that consumers find value in online advertising, but on their own terms. They are choosing to interact with ads when they are tailored to their interests, which includes follow-up communications; once completing their purchase, they would prefer not to be contacted again. Creating a strategy that involves targeted customer lists and incorporating a tool to remove recent buyers will help Automotive Marketers cut through the noise and build positive relationships with future customers.